Parliament on Tour Infopoint, Vienna and provinces (A)
CATEGORIES: exhibition projects, mediation tools & storylines
CLIENT: Parliamentary Administration - The Parliament of Austria
TEAM: Katharina Knoll, Karin Jaschke, Julia Kubasiak
PERIOD: 2022
OPENING: October 26, 2022

OUR SERVICES:
Project management, exhibition concept / content concept, text editing, implementation support for a touring exhibition that is barrier-free in terms of content and structures, including hands-on and media stations
The infopoint "Parliament on Tour" was opened on October 26, 2022 at Josefsplatz in Vienna. The parliamentary administration commissioned bogner.knoll to design a touring exhibition on the occasion of the reopening of the parliament building after its renovation.
In cooperation with the team of the Democraticon of the Austrian Parliament (Department of Democracy Education), bogner.knoll developed the storyline and the content and didactic concept for the Infopoint. For the touring exhibition, mediation tools such as infographics, barrier-free hands-on and media stations were designed. bogner.knoll edited the exhibition texts and accompanied the implementation of the infopoint until its opening.
The interactive touring exhibition about parliamentarism and democracy is intended to bring the parliament and its actors to all citizens in the federal states. It is shown in four containers that can be set up at different locations. With the reopening of the historic parliament building on January 12, 2023, a tour through all federal states will start.
The exhibition provides information on how parliament works and its role in the political system, with a special focus on participation.
The four containers are set up in a U-shape, creating a walk-in exhibition space. One of the four containers is completely glazed and can be visited from the outside around the clock. In order to make "Parliament on Tour" accessible to all, there is a ramp and floor markings as well as listening stations, tactile elements and induction headsets for people with hearing aids. The Infopoint's diverse elements (illustrations, infographics, hands-on and media stations) illustrate the workings and tasks of parliament, the numerous activities of members of parliament, the opportunities for citizens to have a say, and offer information on the separation of powers, fundamental rights, elections and political parties.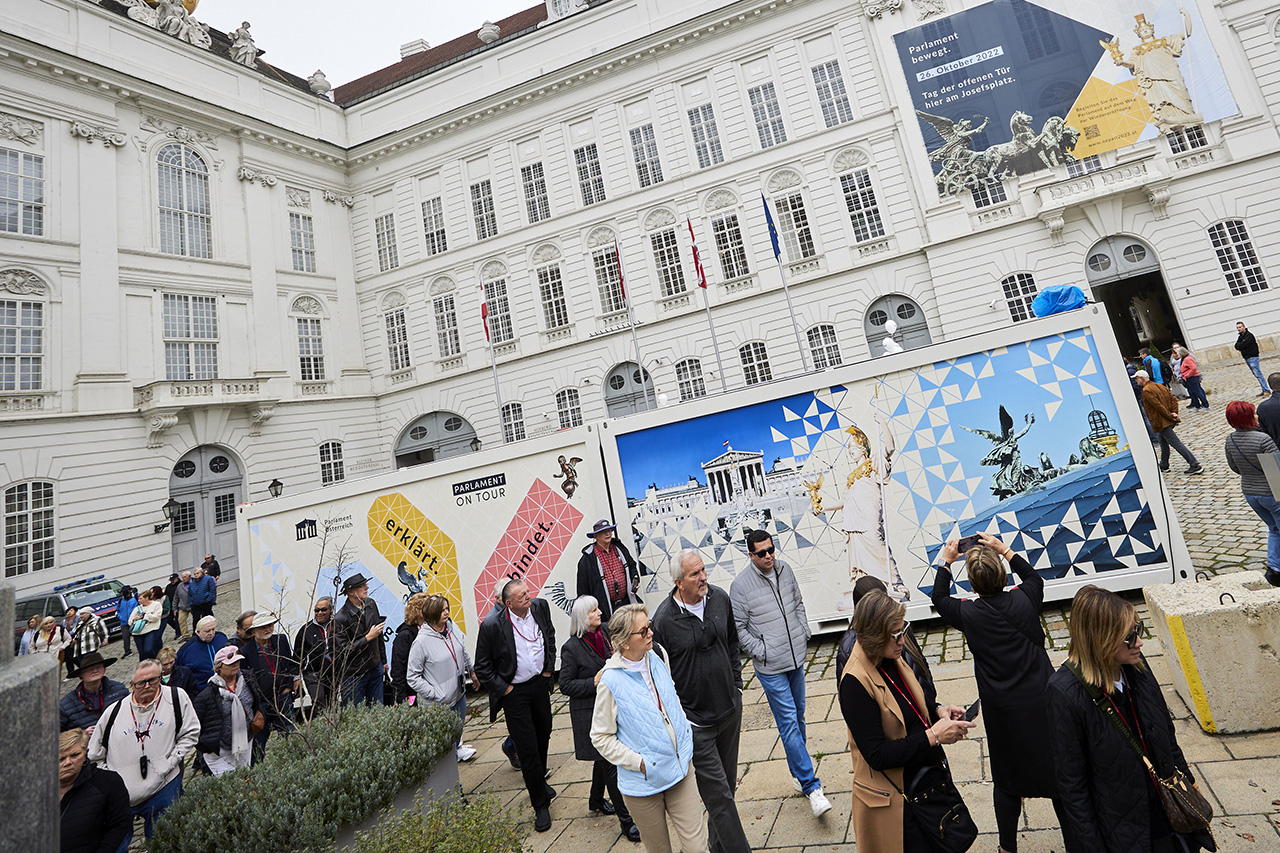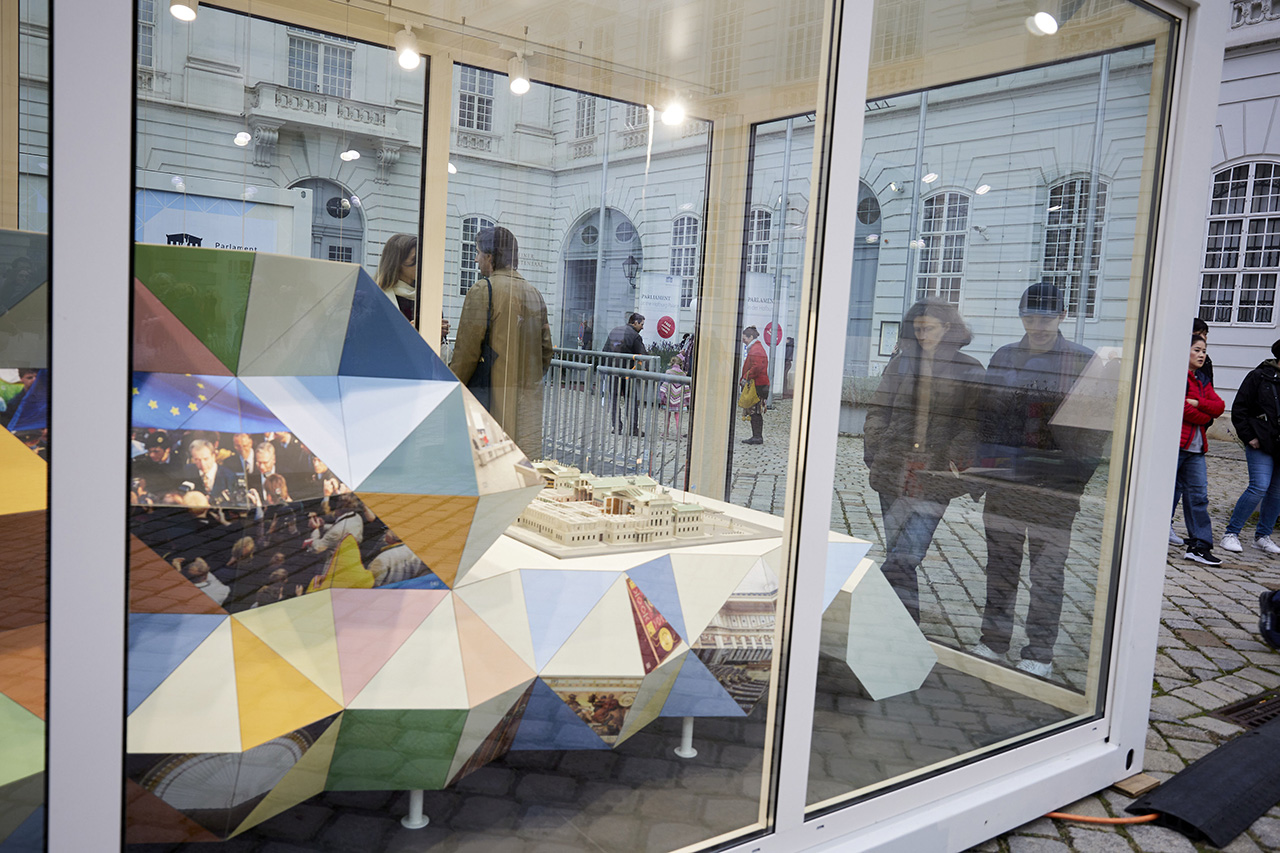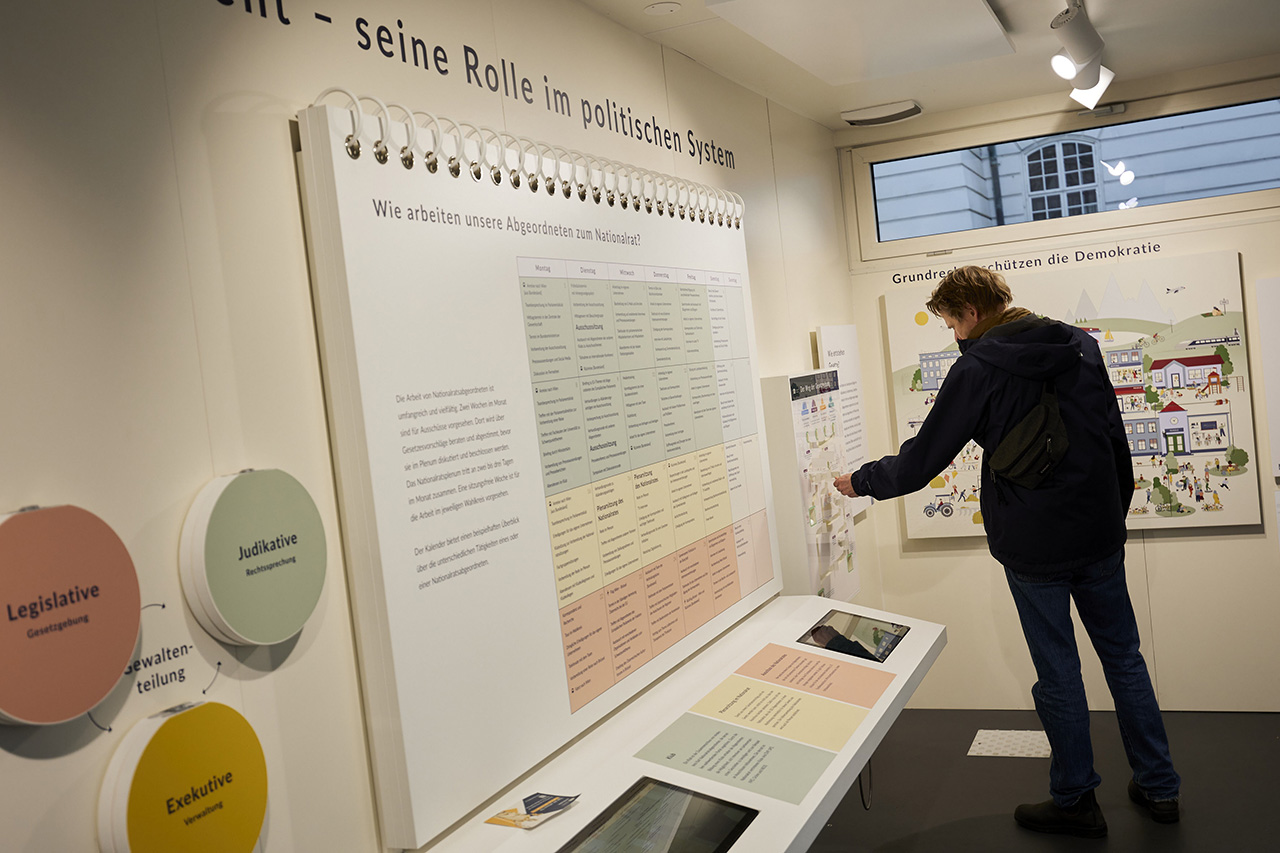 Opening Parliament on Tour © Parlamentsdirektion/Thomas Topf, Johannes Zinner.
PROJECT PARTNERS